Welcome to our Winterfest Page!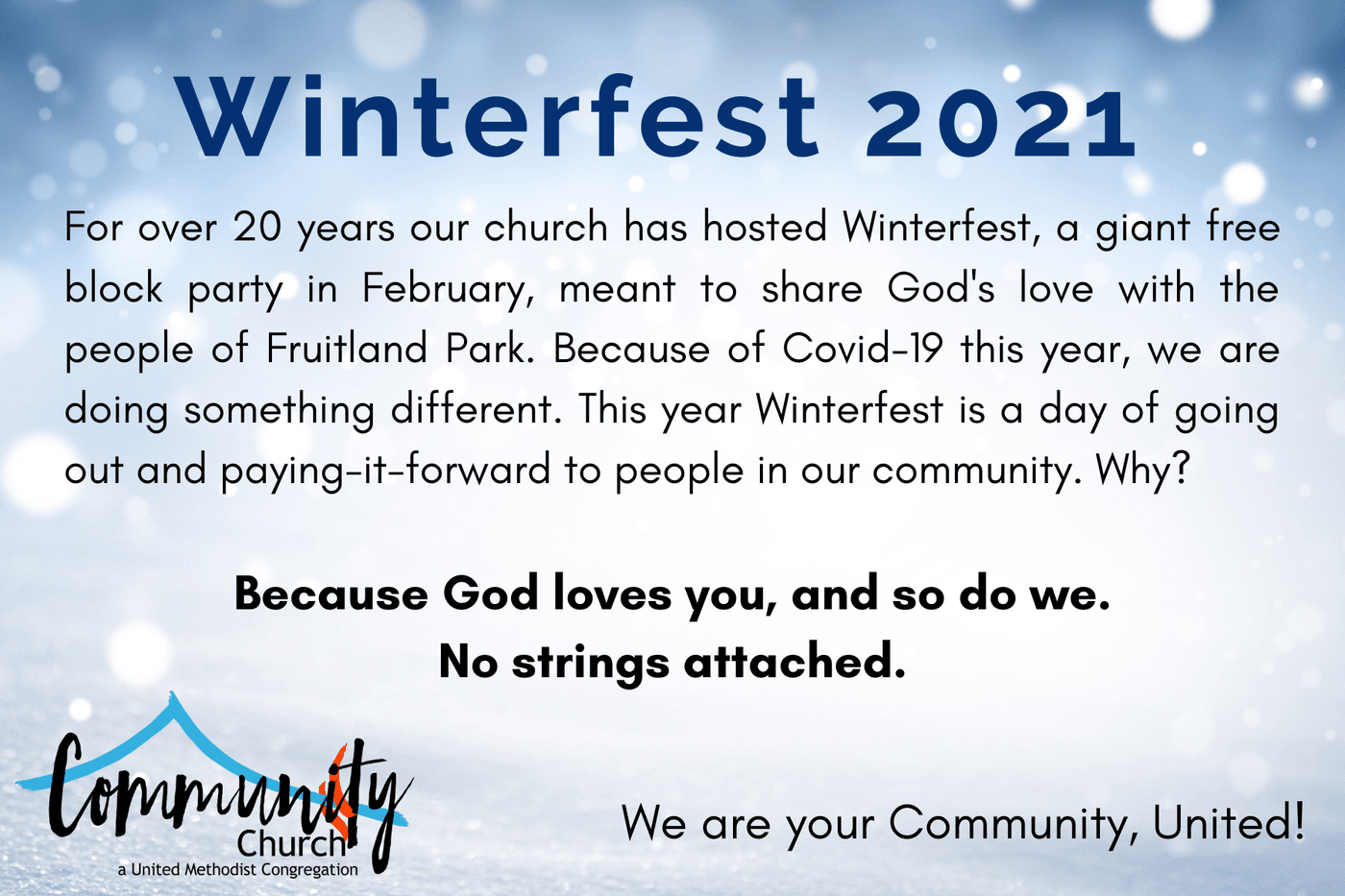 Because of the Covid19 pandemic, we knew that it would not be safe or responsible to hold our usual beloved Winterfest event. Should we cancel? Should we postpone? Ultimately we decided to move forward with something different, yet something that honors the spirit of Winterfest.
Winterfest has always been a free, no-strings-attached gift to the Fruitland Park Community. From the games to the prizes, to all of the food items, the haircuts, bicycle giveaways, the concerts, the activities – everything has been free of charge. Why? Because God loves everyone and so do we. In our volunteer trainings, we were always told, you first job is to smile and be friendly and welcoming to everyone, and your second job is whatever you signed up to do that day!
In trying to honor the spirit of Winterfest we are offering a day of giving back to our community on Saturday February 6, 2021 and this will involve four different things.
First, we will have pairs of volunteers stationed in some of the stores in the Fruitland Park area with funds available to pay for people's bills that day. We're working on finalizing the list. We hope to have between 5-10 teams to send out into the community. Our teams will be wearing their Winterfest shirts, be masked, and have a card to hand out explaining what we are doing.
Second, we are working with the Society of St Andrew to host a drive through food distribution on our property that day. We are working to finalize all of the details. Members of our United Methodist Women will also be providing books and toys wrapped in plastic to be handed out to children at the food site.
Third, we will be providing a food for a party on Friday, February 5th at our partner school, Fruitland Park Elementary. This will include all 500 students and 100 teachers/staff. We will be providing pizza and cookies/cupcakes.
Finally, we are encouraging and inviting folks to participate on their own. Pick up some Winterfest cards from the office and pay-it-forward on that weekend in the community. You might pay for someone's coffee behind you in line at Dunkin Donuts or for someone's meal at a restaurant. We would love to see pictures and hear your stories from your experiences.
If you would like more information about this or our church, please explore this website where you can see many wonderful pictures that beautifully illustrate our church life, call us at (352) 787-1829 or click on the Contact Us card below. Our hope is that this year's reimagined Winterfest will continue to be a blessing to our surrounding communities.
This is your Community, United!